Stay in the laps of nature - a night at a tree house in Kerala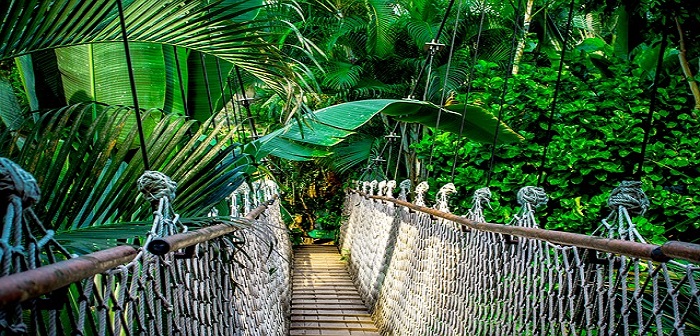 If you love greenery and looking for a fantastic tour, which can be your most memorable trip, then you should definitely visit God's Own Country Kerala. Kerala is famous for its natural beauty which attracts tourist from across the world. Kerala is the perfect destination for any tourist it has hill stations, beaches, backwaters and wildlife sanctuaries also. Kerala backwaters can give you the ultimate experience of houseboats and beautiful tree houses. Kerala is surrounded by Western Ghat hills which have dense forest and trees and if you want to experience something new you should definitely try this eco-friendly tree house which has all the essential amenities. If you are planning to visit Kerala, you should take your time out and spent a night at tree houses without which your tour is incomplete.
Kerala is one of those states where you will find greenery at its best. This tree house is an old tradition which is found in many places of Kerala. To name some of those Wayanad, Munnar and Thekkady are very famous for this culture.
Best time to stay at Tree Houses
It's an excellent experience to stay at Tee house there is no such particular time to visit tree house in Kerala, you can stay at any time, but during the winter and rainy season greenery looks more unique from the tree houses of Kerala. Holidays in Kerala are always an adventure which you can enjoy with your dear ones most.
Why stay in tree houses?
Tree houses are decorated nicely, and the enchanting atmosphere around it make it perfect for the newly married couple. Because of the serenity and beauty of this place, Kerala honeymoon tour is not only famous in India, but it is well known to the people around the world as well.
If you are looking for the most romantic place where you can spend some special moment of your life with your dear ones, then there is no better option than these Kerala tree houses.
The fantastic dream views which are more beautiful during sunrise and sunset will give you a breakthrough from your busy daily life.
Not only the natural beauties but the facilities and services available in these Kerala tree houses also add more fun to your honeymoon tour. Tree houses are the unique attraction for newly married couples as it gives an exclusive experience.
When you are looking for a luxury stay in the lap of nature, then this modern, well-decorated tree houses can fulfill you need and want both at a time.
Kerala has different types of natural beauties in the different part of the state. You can find most beautiful, green hill stations along with the most beautiful beaches in the world, but you can only feel the pure air when you are in the hilly spaces spending your days in the tree houses in Kerala. You will come across with many birds, animals and other creatures of nature which will give you the purest experience during your whole Kerala tip.
Email us now even if you have just thought of planning a holiday and leave rest on us to give your imagination a shape and take it forward from there.




---
Enquiry Form
Tag: kerala tree house packages,kerala treehouse honeymoon,tree house kerala vythiri,kerala tree house stay
Comments System WIDGET PACK
Packages you may also like